---
Navigation:
Artwork Category: [+]
Sort by: [+]
More Items:
---
Artwork | Fearful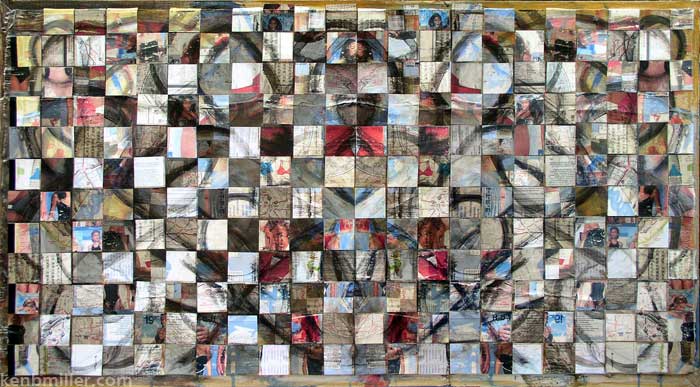 From the Miscellany Category.
This painting has had many different lives and been recycled many times. Originally, it was a painting of a clown with a clock sticking out of it (which was itself an ill-concieved political protest). The canvas was stripped off, and the substrate was a frame with two pieces of board and a gap between them (the board was to hold the clock; the gap was to allow the clock to come through the front). A strip of canvas was stapled across the gap and a biblical scene was painted on it. Finally, photos from catalogs and other printed material were collaged into it. Eventually, it was photographed and printed as a mirror image, which was collaged itself onto the surface, resulting in a kind of odd symmetry.
Medium: Acrylic & collage on canvas & wood
Size: 48"w x 24"h
Date: August, 2004
Status: price available upon request