---
Navigation:
Artwork Category: [+]
Sort by: [+]
More Items:
---
Artwork | Wheel of Fortune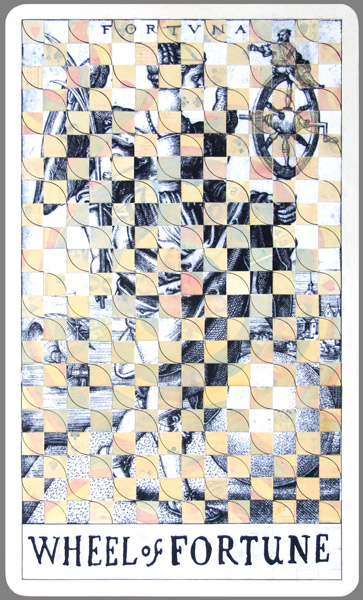 From the Miscellany Category.
This was created for a Side-By-Side art show at Highwire Gallery, the theme me and Tom Plassa, my invited artist friend, decided on was tarot cards. It's difficult to see, but behind the checkerboard collage of Fortuna and the little man on his wheel, there is a collage of things like playing cards, lottery tickets, a roulette wheel, and, yes, the wheel from the TV show Wheel of Fortune.
Medium: Acrylic, pencil, collage & ink on shaped luan
Size: 15.5"w x 25"h
Date: January, 2009
Status: Price available on request