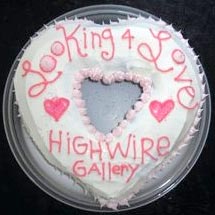 (cake and photo by Melissa Maddonni Haims)
"Four Poets in Love" at will read at approximately 8:30 pm
featuring Adam Fieled, David Prater, Sarah Birl andPaul Siegell.
Adam Fieled's books include Opera Bufa, Chimes, Beams, and When You Bit.
Paul Siegell's books include Poemergency Room and Jam.
Sarah Birl's work has appeared in PFS Post, Mipoesias, and elsewhere.
David Prater's first book is entitled We Will Disappear, and he edits Cordite.