Arnold is Arnold Horshack (played by actor Ron Palillo) on the 70's TV show Welcome Back Kotter. The idea for Arnold as a cult figure came from a "Horshack Ink Blot Test" I created as a bad pun. The question I would ask people when showing them the image is "What Sweathog do you see in this image?". Here are my collages and the contributions of other mail artists.
Contrubtions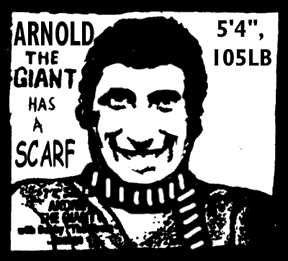 The Contributors
Kurt Beaulieu, PO Box 32166 Succ. Atriums, Montreal, Quebec H2L 4Y5, Canada
Bruno Gheerbrant, 41-43 rue des Rigoles, 75020 Paris, France
J. C. Synthetics, 8 Clarkson St., Ipswich, Suffolk IP1 2J0, U.K.
P. J. M., PO Box 2632, Bellingham, WA 98227-2632, USA
Henk Van Ooijen, Vlinderveen 258, 3205 EJ, Spykenisse, Holland
Carl Oxley #3, PO Box 426, Cheboygan, MI 49721, USA
Martin Petersen, Vorregaardsalle #82, 8200 Aarhus N, Denmark
Laura Poll, PO Box 703, Navesink, NJ 07752, USA
K.D. Schmitz, PO Box 1806, Poughkeepsie, NY 12601, USA
Pete Spence, 40 Bramwell St, Ocean Grove 3226, Victoria, Australia
Eric Thompson, 3023 N. Hyde Ave., Panama City, FL 32405, USA
Cornelis Vleeskens, 50 Coral Street, Cape Paterson 3995, Australia
Karen Wood, PO Box 756, Big Bear Lake, CA, 92315-0756, USA
© 1999, Ken B. Miller & Contributors as Listed. | Reproduced from